Logo Branding Irons by Texas Irons
Celebrating our 10th year in business!
Corporate Gifts, Giveaways, Custom Logos, ASI !
Texas Irons is the leading supplier of Steak Brands in the outdoor cooking industry. Since 1998 we've been providing the outdoor cook fun products to turn themselves into a true grill master!
Texas Irons products make great gifts for the executive who has everything. Some corporate folks are especially hard to buy for, we offer products that are truly unique and personal.
Just imagine, your company logo being "branded"; why it's practically free advertising that grill lovers are happy to use. There's even a wooden box that we can brand which will instantly double your brand's exposure. These custom logo steak brands make great corporate gifts, convention giveaways, promotional gifts, and employee appreciation gift. Or maybe you're having a company BBQ or a western themed party, whatever the occasion, a custom logo steak brand from Texas Irons is a sure winner!
We've done many projects for large and small companies all over the world. Our turn-a-round time is pretty quick once the cut has been approved. We can also brand leather gloves/aprons, hardwood cutting boards or cedar hanging boards with your new logo iron.
The minimum order is 50 brands, but it is possible to do less, just make sure to call for a quote if interested. Due to the fact that we are cutting logos out of metal we may need to make slight changes, in most cases those alterations are unnoticeable. If the changes need to be major we will provide creative options that have been a huge success with clients in the past.
These logos shown here are all property of their original owner corporations, we were asked to create brands of these logos either by employees of that company or by brokers doing work for those companies. All logos were approved before a brand was created.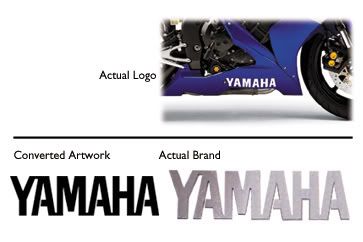 For more examples
CLICK HERE
ASI Brokers call to discuss discounts.
If you would like for us to prepare a custom branding iron please e-mail us your logo/design to info@texasirons.com or you can fax your design with your contact information to to 512-828-6921 x3 and ask for Mike. We have a logo setup fee of $75 and as of right now we require about 25 days on custom order jobs. Please note that emailed images should be in .eps format.
If you are interested in a custom brand and have additional questions please give us a call or e-mail.
To contact us:
Texas Irons
1308 Chisholm Trail #111
Round rock, TX 78681
Bus: 877-256-8916 x3 (Ask for Mike)
Fax: 512-828-6921
If you have an idea or an image that you would like to send us please forward it to info@texasirons.com and we will be in contact with you regarding an estimate.